Introduction...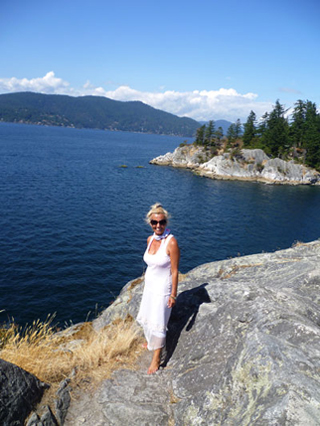 This is me, while on field study in British Columbia. August 2010.
A little over a month after my return from a riveting and specific field study adventure in British Columbia, I set out to write a paper about this adventure and about this study's exploratory discoveries.
This field study's exciting and dynamic theme is intimately connected to a large and central, resourceful, sensitive, poly-faceted and long in the making Case File. Accordingly, the Regeneration File (File 22-CMA) is guided and is governed by the inspirational Tenets of the conscientious Central File.
Obviously, in order to do this type of field research work, all in hopes of course, of perceiving even fleetingly some of the enigmatic workings of Sea Star regeneration, it was required that I closely interact with Sea Stars....
In particular, and most importantly, for a realistic field observational study on the Sea Stars' enduring secret of rebuilding, it was required that I'd be in their midst while they went about free in their natural milieu.
Of course, and it goes without saying, while observing members of this enchanting life form in their natural environment, basic decency dictates that all along I'd be respecting their organizational system without in the least disturbing their habitat.
Apparently, human arrogance had to be entirely and throughout absent from this observational and field study adventure.
This thrilling and tireless field exploration took place in the summer of 2010 and as was expected, it was all about the intriguing regenerating abilities of Sea Stars and of course, how to go about decoding their eons-long secret to this extraordinary and truly supreme capability. Consequently then, this manuscript was titled and subtitled "Intertidal Zone: Sea Star Regeneration."
All in all, if I were to be lucky enough to have a glimpse of the alluring secret of Sea Stars' ability to regenerate, I then had to transport my being to their natural realms. Likewise, if I were sufficiently fortunate to be afforded a peek into the mysterious peripheral influences accountable for aiding this beautiful life-form to repair and rebuild naturally, absolutely, I then had to observe this study's illuminating subject matter from close up.... Fundamentally, this study demanded that I intermingle with Sea Stars as they went about in their natural landscapes -- it was a prerequisite.
Shortly to be continued....
---